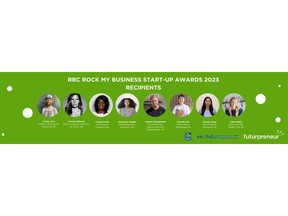 Article content
The Awards are granted to eight participants from Futurpreneur's free Rock My Business Workshop Series
TORONTO, Oct. 03, 2023 (GLOBE NEWSWIRE) — Futurpreneur and RBC Future Launch announced their collaboration for the third annual Rock My Business Start-Up Awards, which presents eight up-and-coming young entrepreneurs from across Canada with $10,000 each to support business development. The awards, intended to assist winners in turning their innovative ideas into sustainable businesses, are designed to encourage and reward participation in Futurpreneur's Rock My Business program. This program offers a free, digital workshop series divided in three parts, reflecting the essential components of any successful business: a viable idea, a robust business plan, and a well-managed cashflow.
Article content
"When young people succeed, we all succeed," says Mark Beckles, Vice President, Social Impact & Innovation, RBC. "Through our partnership with Futurpreneur, we see the best of the entrepreneurial spirit come to life as these young Canadians champion a brighter more inclusive future within their communities. Congratulations to the 2023 recipients!"
Award recipients were eligible for four different award categories as part of Futurpreneur's commitment to making entrepreneurship accessible to Canadians from all backgrounds. This is one of Futurpreneur's driving principles as the only national, non-profit organization providing financing and mentorship to young aspiring entrepreneurs. In the spirit of fostering a diverse entrepreneurial environment nationwide, the following eight awards of $10,000 each were extended to eligible participants:
Five Youth Entrepreneur Awards for entrepreneurs aged 18 – 29
One Emerging Black Entrepreneur Award for a Black entrepreneur aged 18 – 39
One Emerging Indigenous Entrepreneur Award for an Indigenous Entrepreneur aged 18 – 39
One Emerging Entrepreneur Award for an entrepreneur aged 30 – 39
Article content
"It has been wonderful to witness the growth and popularity of the Rock My Business program among Canada's enterprising youth who are eager to bring about change in their communities and across the country," says Janis Nixon, Vice President, Programs & Partnerships, Futurpreneur. "Our strengthened partnership with RBC Future Launch allows us to continuously expand and reimagine the program, ensuring that every young aspiring entrepreneur across Canada has access to the resources they need to overcome the obstacles that stand in their way of making a difference. Our hope is to see more aspiring entrepreneurs seize this opportunity as we try to extend our reach and enhance accessibility to equity-deserving communities across the country."
The Rock My Business workshop series complements Futurpreneur's efforts in diversifying the sources of financial and professional support available to young entrepreneurs in the early stages of their journeys. As well,the program provides business coaching from Entrepreneurs-in-Residence and breaks down the process of achieving business viability and creating a reliable business plan and cashflow projections.
Article content
To date, the Rock My Business workshop series has engaged over 9,000 young entrepreneurs throughout Canada. The free online series takes place every other month. Interested participants can visit the Rock My Business page to sign up for the next available workshops. Participants who attend the Rock My Business Plan and Rock My Cash Flow workshops may be eligible for Futurpreneur's next round of RBC Rock My Business Start-Up Awards.
Learn more about the 2023 RBC Rock My Business Start-Up
Award recipients below:
Tommy Aird – Emerging Entrepreneur Award
Tommy's Whole Grain
Location: Vancouver, British Columbia
Tommy's Whole Grain is on a mission to get people excited about whole grains. The company aims to bring to market breads and pastries of outstanding flavour, with high nutrient content and a positive impact on the community and the environment. They firmly believe that whole grains are an important piece of the puzzle to a healthier future.
Corine Sobela – Emerging Black Entrepreneur Award
AFI Épicerie
Location: Longueuil, Quebec
AFI Épicerie is a grocery store specializing in the sale of African and island food products, located in Longueuil. Their mission is to become a benchmark for quality exotic groceries, offering authentic products, exceptional customer service, and a rewarding shopping experience in a modern and welcoming setting. Their aim is to inspire and satisfy their customers by providing them with a unique culinary journey through the delights of home and abroad.
Article content
Vanessa Gillespie – Emerging Indigenous Entrepreneur Award
Stellar Contours by Nurse V
Location: St. Albert, Alberta
Stellar Contours' mission is to empower individuals to embrace their unique beauty by enhancing their natural features. The company strives to provide the highest quality and innovative cosmetic solutions that inspire self-confidence, self-expression and self-love. Through their expertly crafted contouring techniques and personalized approach, Stellar Contours aims to celebrate individuality and help clients feel like the best versions of themselves, with a commitment to delivering exceptional results, fostering positive experiences, and building long-lasting relationships.
Oluwaseyi Adaghe – Youth Entrepreneur Award
RÓUN Beauty Inc.
Location: Kitchener, Ontario
RÓUN Beauty Inc. is an early-stage bio-cleantech company that is creating Canada's first plant-based braiding hair extensions for Black women and those with Afro-textured hair. Established in January 2023, RÓUN Beauty was born out of frustration with the hidden costs of synthetic braiding hair, particularly, scalp irritation from exposure to harsh chemicals, and plastic waste, as these products end up in landfills after use. RÓUN Beauty is on a mission to provide women with the gift they deserve: biodegradable and non-toxic hair extensions that help them look great, increase comfort and eliminate environmental harm.
Article content
Camren Chamberlain – Youth Entrepreneur Award
The House Fairy Cleaning Services
Location: Charlottetown, Prince Edward Island
The House Fairy Cleaning Services provides residential, commercial and Airbnb cleaning services in Prince Edward Island. The owner of The House Fairy Cleaning Services, Camren, is an openly transgender man who aims to be visible in the business world while providing representation for the transgender community. As a part of the 2SLGBTQIA+ community and a business owner, Camren knows how important it is to create a space that is inclusive and welcoming for community members, both among his clients and staff.
Timothy Cho – Youth Entrepreneur Award
Oven Theory
Location: Mississauga, Ontario
Oven Theory is a ghost-kitchen bakery that specializes in Asian-inspired cupcakes that are light, fluffy and not overly sweet. Departing from traditional overly rich offerings, Oven Theory has a delicate focus on upholding the subtle sweetness often found in Asian baking. Their mission is to create premium cupcakes that are perfect for sharing, providing opportunities for people to come together and celebrate many of life's milestones and special occasions.
Article content
Wendy Parng – Youth Entrepreneur Award
Double Wishes
Location: Vancouver, British Columbia
Double Wishes is a wellness lifestyle brand specializing in premium herbal teas, soup mixes and vegan milk blends. In collaboration with wellness experts, the brand meticulously crafts its collections, ensuring products are 100% natural, authentic and free from additives. Drawing inspiration from the art of food therapy, Double Wishes elevates the wellness journey, making it enjoyable and convenient. Each collection embodies the brand's commitment to enriching daily rituals with natural benefits, turning every day into a step toward better health.
Celia Talbot – Youth Entrepreneur Award
Citron par Célia
Location: Québec City, Québec
Citron par Célia is a creative company offering in-home chef services, cocktails, and cakes for small and large events in the Quebec City area. The company promotes responsible consumption by creating dishes around local and seasonal products and using quality tableware to reduce waste at events. The uniqueness of each individual is at the heart of Citron's creations. Through culinary ideation, they can tell a story, communicate emotions and create memorable moments around food. Whether it's a cake inspired by a memorable trip, a bite of nostalgic childhood flavour, or a festive cocktail to kick-off a birthday party, Citron makes celebrations unique, inspired by their clients.
Article content
ABOUT ROCK MY BUSINESS
Futurpreneur and RBC Future Launch are proud to support Rock My Business, a free, virtual, three-part workshop series that will help you develop your idea, get started on your business plan and create a viable cash flow for your business – all while connecting with like-minded entrepreneurs in your community, and across Canada. If you need direction to develop your business idea, have a strong business idea OR recently launched a small business that you'd like to grow, register today for our next series of workshops. Participants who complete at least two of the workshops are eligible to receive one-on-one coaching for free from our Entrepreneurs-in-Residence, helping you strengthen your idea and business plan further.
ABOUT FUTURPRENEUR
Futurpreneur is a national, non-profit organization that provides collateral-free financing, mentorship and resources to diverse young entrepreneurs, aged 18-39, who are looking to start or grow their businesses in Canada. With a mandate to help young entrepreneurs bring their business ideas to life, Futurpreneur provides bilingual (English and French) support and resources to help business owners start and succeed.